I have a Chatham A's shirt with that slogan on the back. I'd say it's pretty accurate- the Cape Cod Baseball League is a summer collegiate league, and it tends to attract some of the best talent in the country. About a third of the guys I saw play last Thursday had previously been in Omaha for the College World Series.
When they renovated the high school ballfield here six years ago, they made sure it was built to CCBL specifications, so that Cape League games could eventually be hosted on the Vineyard. For the past three years, they've recruited two teams to come over and play a day game (most games are at night). This year it was Falmouth and Hyannis (both of which are teams that are close to ferry ports. Makes the trip a little easier).
I saw the sign for the Cape League game when it was first posted a month ago at the high school and jumped all over that assignment when it came up at the news meeting. I wrote the article for it, too (all of the articles I write are in the subscriber-only area of the Gazette, so I can't link to them), but was way more excited about getting to play with my other new lens, a 70-200 f/4.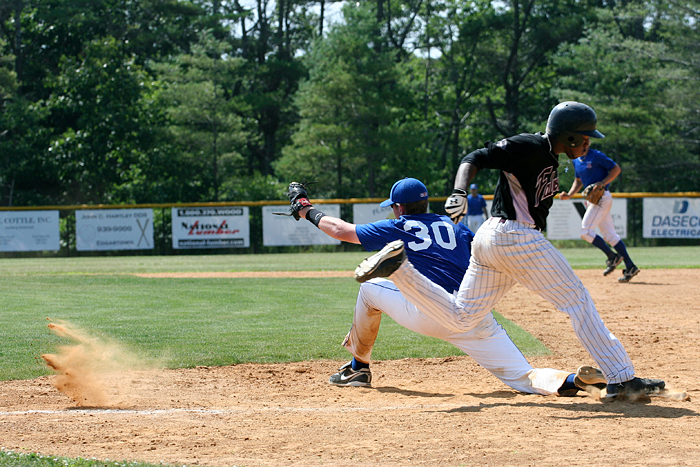 The best part about Cape games, especially if you're a little kid, is the accessibility to the players. In college parks, the players are in their dugouts the whole time, which are separated from the fans. In the CCBL, everything happens at recreational ballparks, so all that's between the players and the fans is a chain-link fence. And because the league has such a reputation for producing future MLBers (David Aardsman, Lance Berkman, Jason Varitek, David DeJesus, Casey Blake, Ben Sheets, Jeff Kent, Tim Lincecum, Nick Swisher, Barry Zito, Ryan Theriot, to name a few), kids spend a lot of time getting autographs. You never know when you might end up with something signed by the next Nomar Garciaparra.