I'm starting a personal project this season!
In grad school, I did a 30-Day Challenge, where I took one photo every day for thirty days. My friend Erin has done a photo a day every year for the past six years. That's a little too much for me, so I'm keeping it focused to summer.
My start date for the project was last Friday, May 24, and I am going to continue until Wednesday, September 3. I started last Friday because that was when people started to arrive for the Memorial Day holiday. On the flip side, September 3 is two days after Labor Day, when The Season ends.
My goal beyond actually making myself take a photo every single day this season is to try to capture what exactly summer is here on the Vineyard. That means I am going to try to avoid taking photos from my own life (I already broke this when I took a photo at the alpaca farm the other day). There are plenty of other things here to photograph besides my cat and my dinner–for those photos, you can always check my Instagram!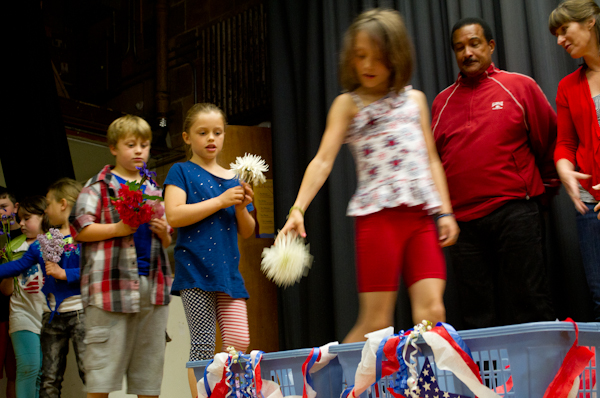 MAY 24: The Tisbury School celebrates the Friday before Memorial Day with its March to the Sea, when the students walk down to Owen Park and drop flowers off the docks in honor of the dead. This year it rained, so they did the ceremony in the school gymnasium with the assurance that the flowers would make their way to the sea after the storm stopped.
MAY 25: Still raining when I went in for my day at the alpaca farm. Their back pen had a huge puddle form in it (to ruin the image a little bit, that puddle always forms right over their poop piles), and I liked their reflections. This has been an interesting weekend so far; it's been chilly, so people are actually buying alpaca hats and things at the store, and then wearing them out. Cell phone photo.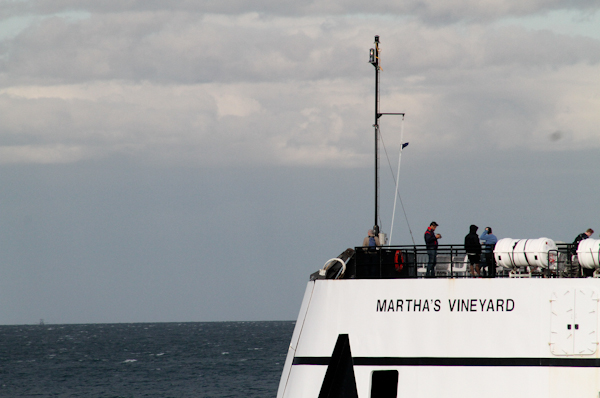 MAY 26: In mid-May, the ferry starts to run between Woods Hole and Oak Bluffs. For most of the year, it only goes to Vineyard Haven. The Oak Bluffs docks are much more exposed to the wind and weather than the VH ones, which are within a harbor, hence the seasonal-only trips.
MAY 27: After the morning Memorial Day parade, which goes from the Foreign Legion building to Pine Grove cemetery, the town of Tisbury hosts a picnic at the Waterworks Park. Even though this is a holiday-weekend event, it's something a lot of Islanders come to. One family told me they like it because they can come relax after all of their MemDay guests have left.
EXTRA BONUS NOTE: My very first assignment for the Gazette was the Memorial Day parade, four years ago.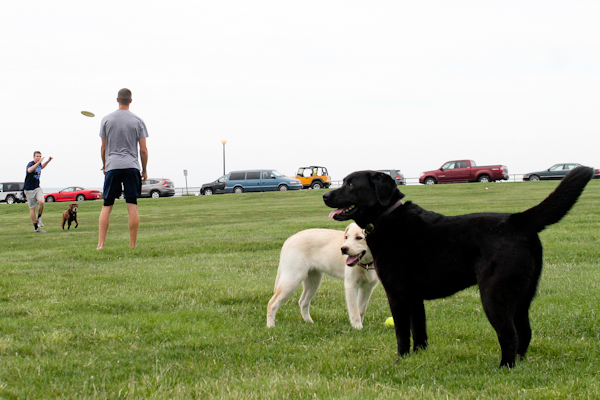 MAY 28: Unless I have a meeting or other assignment, I drive by Ocean Park on my way home from work.  Today I saw these three Labs–one of each color, one old, one mid-age, one young–romping around with their owner (who I actually knew from an assignment two years ago. small world). I stopped to take their photo, and after a bit the two guys showed up with their Frisbee, which the dogs loved.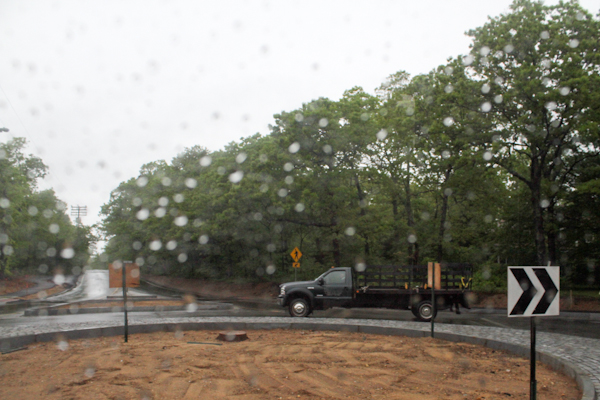 MAY 29: Another rainy May day. This is our new roundabout, as taken from the window of the bus as we were going around. The roundabout was wildly controversial when it was first proposed as a solution to traffic problems at one of the key four-way stops here. Then they actually installed it (in the process, the only light on MV was eliminated), and now everybody seems fine. I'm curious to see if it actually improves traffic flow over the rest of the summer.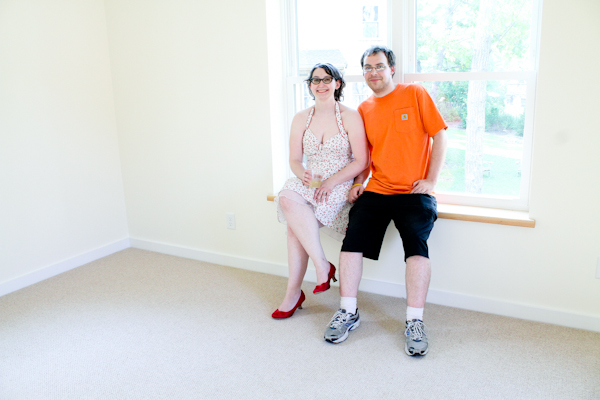 MAY 30: Geneva and Calvin in their new bedroom after the ribbon-cutting of their home, part of the Island Housing Trust's affordable housing community. The green, energy-efficient townhouse is part of a duplex project I've been following since they first broke ground two years ago, and the final product looks wonderful. Permanent, affordable housing on MV, particularly for younger people, is a huge challenge, and it's always fantastic when projects like these are completed. In typical this-Island-is-very-small fashion, Geneva is also one of my co-workers at my morning cafe job. Hooray for new houses!