A couple weeks ago I went to an affordable housing lottery in Vineyard Haven. It was wonderful.
I didn't realize how wonderful it would be when I got the assignment; all I could think about was how terrible the lighting is in the town hall and how I really didn't want do deal with that again. But once I got there and watched everything unfold, I had tears in my eyes before I knew it.
Martha's Vineyard is an incredibly expensive place to live. There are almost no homes available for under $250,000 (Islanders have to compete with summer people for those that are), and cost of living beyond that has also skyrocketed in the past few years. This is mostly because it costs more to get things over here on the ferry (or the plane), and partially because businesses can afford to have higher prices due to the lack of competition from places like Wal-Mart and large grocery chains (Stop and Shop is the cheapest place here, and it's still kind of pricey there).
IAH (Island Affordable Housing) closes the "affordability gap" for families, meaning they make up the difference in the exorbitant prices such that a mortgage will only cost a family 30% of their income (as opposed to 50% or more). The housing lottery is the first step in the process. This year four homes were awarded to families.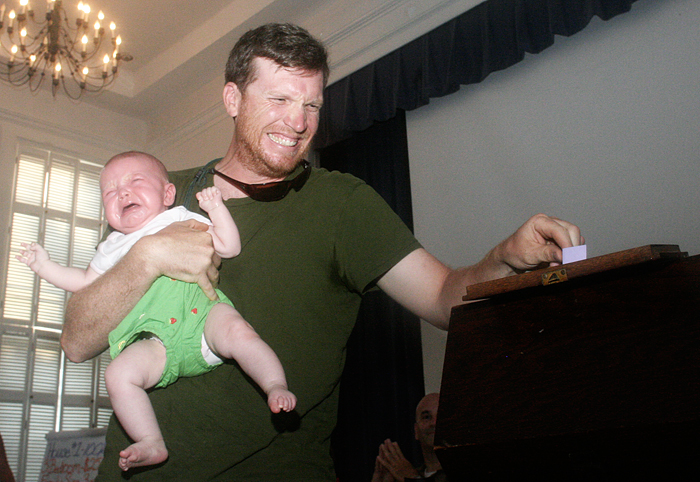 Benton Coulter brings a squalling daughter Madeleine to the front of the room to drop his number in the lottery box. The Coulters, who have entered the lottery three times, finally had their number drawn last Tuesday for a 3-bedroom home in Vineyard Haven.

Marie Meyer-Barton embraces her son Matthew after learning that she has won the right to purchase an affordable home in the Vineyard Haven housing lottery. Meyer-Barton has entered the past seven lotteries and did not come up lucky until last Tuesday.
I love feel-good stories.